UPS & Data Center Infrastructure
Delta ensures continuity for our customers' mission critical operations and reduces their total cost of ownership. Our efficient and highly reliable products and services range from uninterruptible power supplies (UPS) to our InfraSuite Datacenter Infrastructure Solutions.
Data Center Infrastructure Solutions
Real-time access to secure and reliable data is crucial in today's competitive global business environment. Delta has developed a new generation of tier 3 data center solutions or above that allow companies to achieve this essential goal of high level of data center reliability. Our data center design provides IT managers with the exact tools and capabilities they need in order to effectively organize the various servers within a company.
Delta's InfraSuite Data Center Infrastructure Solutions are grouped into four main modules which optimize our customers' ability to maximize operating efficiency at the lowest cost, maintain a high level of flexibility and control for IT managers, quickly scale to meet demand, and monitor data center solutions 24/7/365 from anywhere around the world. These modules are as follows: Power Management, Rack and Accessories, precision cooling and Environmental Management System. The interlocking nature of the modules allows companies to implement fully integrated system architecture.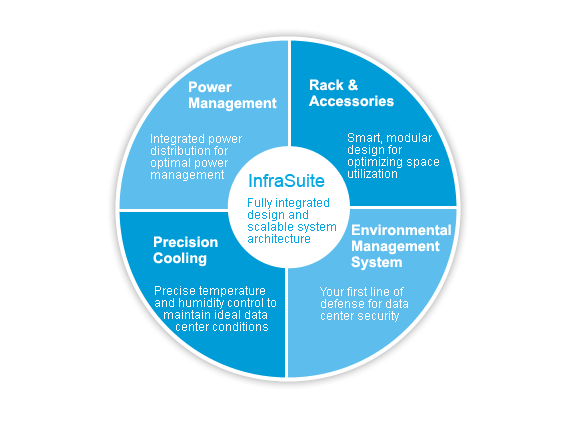 InfraSuite advantages include:
■ Ideal safeguard for data center operations
■ Modular design for quick and easy tool-free assembly
■ Scalability to match data center with enterprise growth
■ Optimized space utilization and operating costs
■ High efficiency, energy-saving power components for eco-friendly data rooms
■ Optimal power distribution and protection
■ Precise temperature and humidity control
■ Reliable and uninterrupted operations 365 days a year
■ Easy integration with all data room structures
■ A complete environmental management system for worry-free operations
Uninterruptible Power Supplies
The Delta UPS business has more than a decade in designing, manufacturing and marketing UPSs globally. Delta is committed to innovating technically superior products and providing energy efficient solutions for a wide range of home, office, data center and industrial applications. Our client base covers world class enterprises in the areas of semiconductors, optoelectronics, food processing, finance, petrochemicals and telecommunications.
Delta UPS solutions include a full line of UPSs and management software, and we deliver industry-specific solutions worldwide to a broad range of market sectors and industry leaders. Our UPS solutions not only ensure uninterrupted processes with unmatched reliability but also meet your growing business demands with uniquely-designed scalability and flexibility.
Delta's UPS product portfolio includes one- and three-phase UPSs as well as online and line-interactive systems. The full product range comes in four models based on load type:
■ Agilon family: for personal computers and peripherals
■ Amplon family: for servers and networking equipment
■ Ultron family: for data centers and industrial facilities
■ Modulon family: for modular UPS systems that offer scalability and redundancy in a single frame
3D Virtual Data Center Tour