Bangkok, Thailand, January 12, 2021–Delta Electronics (Thailand) PCL. received the Award for Excellence in Training at the Thailand Best Employer Brand Awards 2021 online ceremony by World HRD Congress.
Delta Thailand competed for the award with top tier companies in Thailand, and over 100 companies in various industries who took part in the program.
The award recognizes the company's original Delta Smart Manufacturing (DSM) Training Academy, which provides a solid training structure and learning roadmap to develop employees and contributes to increased quality and productivity based on innovative technology.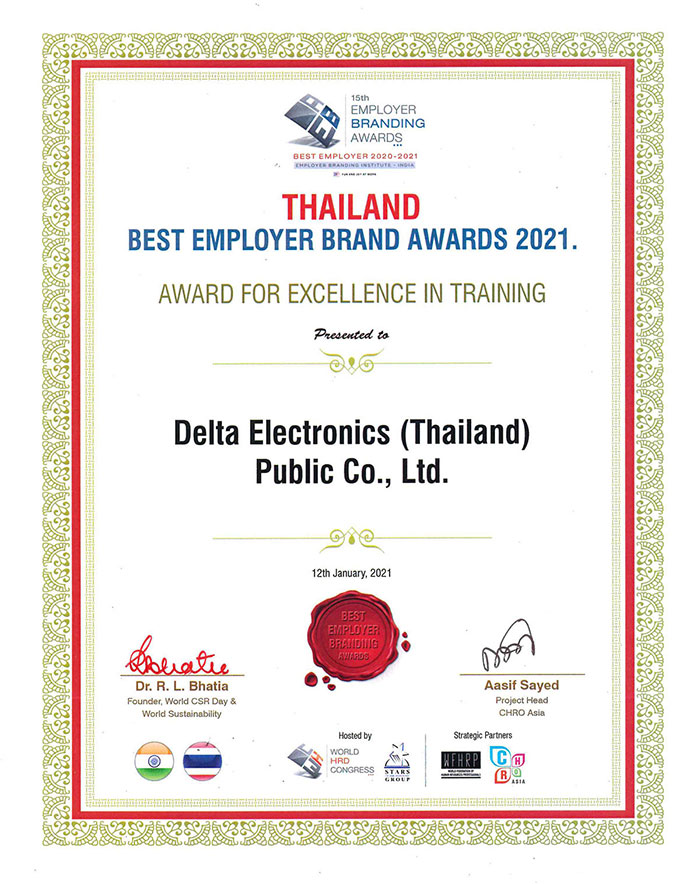 Delta created the DSM training academy to develop local automation engineering talents in Thailand and to raise competencies to support internal and external customers through digitalization and automation. Delta's original training syllabus trains engineers in the following areas:
• General platforms: Basic robot operation, HMI, industrial robot applications
• Equipment operations and maintenance: Delta MES introduction, CAD foundations, electronic component control
• Robot operations and maintenance: DROE programing software, LUA directive and RL editor
• Electronic control: Electrical theory, inverter, sensor, servo motor, PLC design
As a Thailand-based electronics manufacturer and automation solutions pioneer, Delta invests in the training of industrial automation engineers at top Thai universities and its own production centers. Delta commits to fostering Thai engineering talent to enable industrial development in-line with the government's Thailand 4.0 goals of developing smart manufacturing and smart talent.
TAGS:#award